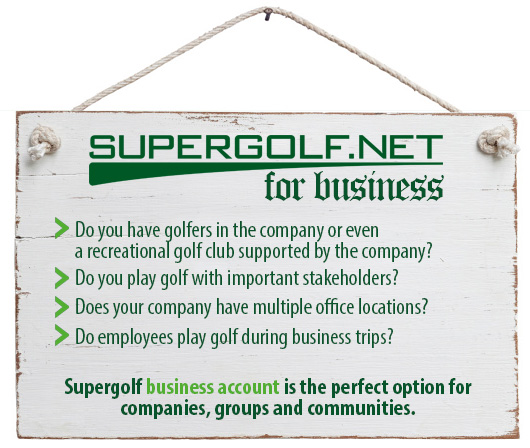 Supergolf business accounts are a perfect choice for companies and their guests/stakeholders, communities or any other group of golfers. The Business Account combines very competitive Supergolf green fee prices with more flexible booking terms.
The Business Account even enables booking a green fee for your guest without them registering to Supergolf.
Here's how the Business Account works
A selected amount of Supergolf green fees are available for the Business Account. Every golfer that's granted access for the business account will be able to make bookings via Supergolf.net using their personal Supergolf account.

The account manager(s) can add players to the business account - either by adding existing Supergolf members or registering new ones. During registration, every new golfer will also have the normal Supergolf membership benefits at their disposal.

The account manager can determine personal limits to all players i.e. how many green fees they can use

All data is recorded i.e. who played where and when and with whom. Also statistics show if your business account needs a refill of Supergolf green fees.
Different player roles in the business account give different user rights. For example, the account Manager can book green fees even to people that are not registered in Supergolf as well as purchase more green fees to the account. A Basic user can only make bookings.
Membership prices for the business account
Supergolf membership (registered user) 10,00 € / season (paid during first order, otherwise 20 €)

One-time-guest 10,00 € / person (invoicing at the end of the season). One-time-guests are players that don't register in Supergolf but play with Supergolf green fees (for example company guests)
Business green fee prices
10 - 19 pcs á 45,00 €

20 - 29 pcs á 40,00 €

30 - 49 pcs á 36,00 €

50 - 99 pcs á 34,00 €

> 100 pcs á 30,00 €
Green fees are valid on all Supergolf courses
Green fees are valid until end of 2022
Prices include 10% VAT
Normal Supergolf booking terms and possible specific golf course terms apply
Invoicing
The first batch of Supergolf green fees and memberships is charged during your order.

The account manager(s) can purchase more green fees during the season according to the contract. Those green fees will be charged by the end of the season or by contract
Do you want a business account for your company, community or golf group? If yes, great! Contact us. If no, contact us and we'll let you know why you should!

Jari Koski
Email: jari.koski(a)supergolf.fi
Tel: +358 40 503 4235